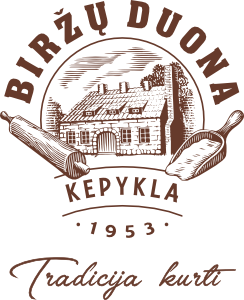 The Biržai region is famous for two products – beer and bread for which the production of high-quality cereals is especially important. It can be said that the people of Biržai are born to be in love and know that cereal and its grain, especially appreciating bread that is a symbol of family, strength and health. Bread has an important, honourable place not only during traditional holidays but also on the daily table of the family. It is a particularly precious product for us, so we have preserved the wisdom of long-standing bread-baking customs. On your table – time-tested products matured by traditions.
Using the wisdom of ancestors and modern bread production technology, the company's specialists offer a wide range of products:
rye-wheat bread;
wheat bread;
baguettes;
bread sticks (grissini in Italian);
French croissants;
cakes;
buns;
cookies;
etc.
The most important goal of "Biržų duona" is to provide a delicious product of the highest quality to every consumer. The unique taste and quality of baked goods are guaranteed by high-quality raw materials, the latest technologies and many years of experience used in production.