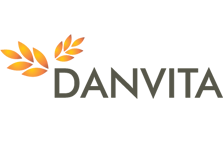 "Danvita" was founded in Zarasai, Lithuania, in 1994. Our bakery was one of the first privately owned bakeries in Lithuania. We originally focused on providing fresh bread to the local area. In 2001 we started baking crisps, bagels and rusks. In 2005 we introduced a crisp flatbread production line. In 2010 we started making whole-grain crisp straws. And in 2013 we launched a butter cookie production line.
Currently, we produce whole grain, wheat and organic flat crisp bread. Our products are sold under DANVITA and RIDUTO brand names. We also have experience with Private label projects.
Currently, we export over 90% of our production to Latvia, Estonia, Poland, Germany, Finland, Sweden, Denmark, Holland, Switzerland, Spain, Portugal, Italy, Romania, Israel, Ukraine, USA, Australia, New Zealand.
We pay special attention to our product quality. Since 2010 we have earned the BRC food safety management certificate. Every year international auditors evaluate whether food safety requirements are maintained based on international BRC standards. We have also implemented IFS food safety management system in 2021.