EKO PIRK produces and distributes organic and natural products. The company was founded in 2009 in Vilnius, Lithuania. Our mission is to spread the ideas of a healthy and sustainable life. We are the market leader in the Baltic countries, supplying coconut oil, coconut products and butter ghee under the brands AMRITA and AUKSO or under the customer's private label. We export our products throughout Europe and sell through our e-mail. store in all Baltic countries.
PRIVATE LABEL SOLUTIONS
8 years of experience in supplying private label products ensures only the best quality! We will manufacture your product with your private label and deliver it directly to your hands! Private-label solutions are available with low minimum quantities.
IMPORTANCE OF QUALITY
Coconut oil products are only purchased from BRC-certified suppliers. We select only the best quality suppliers from Sri Lanka and the Philippines. We adhere to high food production standards and produce coconut oil and butter GHEE according to Food Safety Management System ISO 22000:2005 and HACCP (Hazard Analysis and Critical Control Points).
We constantly carry out laboratory tests to ensure the quality of our products.
WE ARE PROUD
SIAL INOVATION 2020 PICK: Banana flour, coconut coffee and tea cream (coconut milk powder), date syrup, apple syrup, rice syrup and spelt syrup.
Private Label Manufacturers Association (PLMA) 2019 exhibition of new products – mall of ideas: organic jackfruit strips.
SIAL INNOVATION 2018 PICK: Coconut Oil and Butter Ghee Blend.
OUR ASSORTMENT
Ghee butter;
A mixture of coconut oil and ghee;
Coconut oil;
Coconut milk, 17%, cream, 22% coconut milk powder;
DRIED FRUITS: pineapple chunks, mango strips, soft banana slices, breadfruit strips, coconut flakes;
SYRUPS: Agave (light and dark), maple, spelt, rice, dates, apples;
SUGAR/SWEETENERS: agave powder, coconut sugar, crystallized xylitol, erythritol;
FLOUR: banana, coconut, almond
SUPERNUTRITION POWDER: agave inulin, cacao nibs, spirulina, baobab, camu camu, acai berry, hemp seed, moringa, barley grass, chlorella, chia protein, maca root, wheatgrass.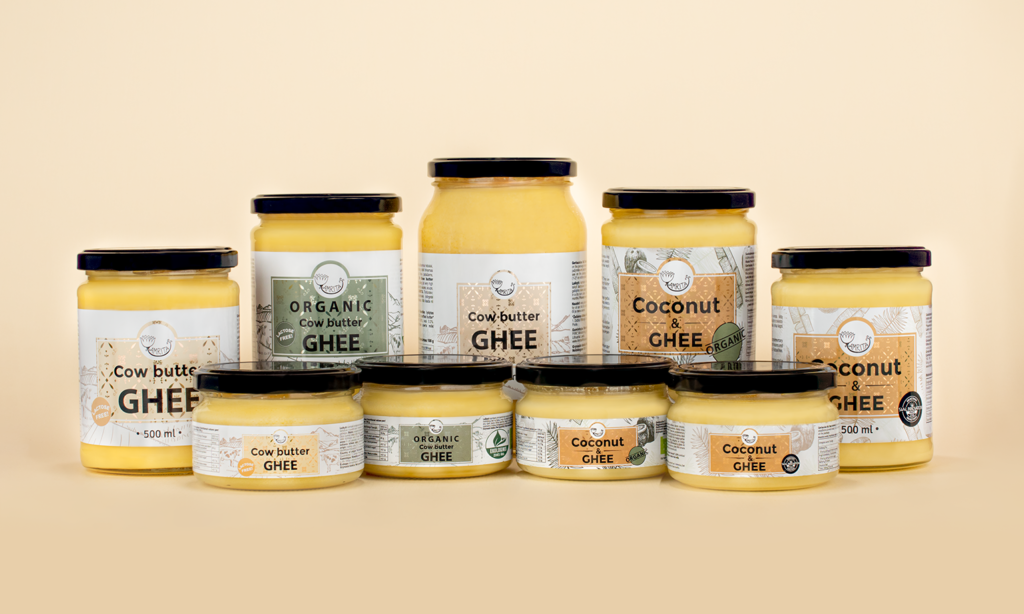 Filters
Augaliniai produktai
Ekologiški produktai
Pieno produktai